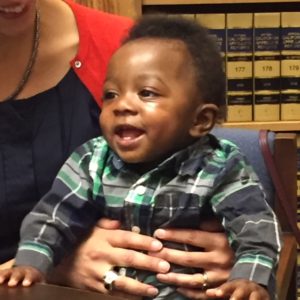 Adoption involves parents and their children, loss and grief, and complicated joy. There's a lot at stake when things don't work out and even more so when they do. The role of the adoption attorney is to help the parties think about the adoption in these terms. Attorneys should look to the future, respect vulnerabilities, and build trust. What follows is a brief overview of some of the emotional and legal issues involved in a private adoption.
Open Adoption Overview
In an open adoption, the birth parents and adoptive parents know each other's identities and agree to maintain contact. Research shows that this openness benefits everyone. Adoptive parents get to learn more about their child's genetic heritage, their cultural history, and medical history. The birth parents get to watch their child grow and thrive which helps validate their difficult choice. Ideally, hopefully, this mitigates the grief and loss they will be coping with over the years, some for the rest of their lives. Adoptees benefit from knowing critical pieces of their life story: where they came from, their biological roots, and the existence of siblings. Having just basic information can be hugely helpful in demystifying an adoptee's life story.
Contact Agreements
Most open adoptions involve a contact agreement between the parties. In California, this agreement is enforceable when it's in writing and filed with the court. This agreement outlines the type of contact the parties will have in the future, when it will happen, and how. It is most valuable in that it puts expectations in writing. The challenge in them is that birth parents might use agreement negotiations to maintain a sense of control over the adoption. They might have unrealistic expectations of what adoptive parents can commit to. The best adoption attorneys will work hard to mediate vulnerabilities on both sides. She will also be honest and ethical about what each side can give.
Choosing an Adoption Attorney
Adoptive parents have options when deciding whom to work with on their adoption. They should choose professionals who share their philosophy on open adoption. One option is to work with an adoption attorney. Some adoption attorneys actively seek out birth mothers on behalf of their clients. When an adoption situation is found, the attorney can then do any of the following:
coordinate the home study
terminate birth parent rights
negotiate the contact agreement
comply with the Indian Child Welfare Act (ICWA)
sort out conflict of law questions if the birth mother lives out of state
disburse financial assistance to the birth mother if she needs it
prepare the adoptive parents for the finalization hearing where they are declared the legal parents.
Terminating Parental Rights
One of the biggest challenges in any adoption is terminating the rights of birth parents so the adoption can be finalized. California law has specific requirements about when and how a birth mother may sign her consent. Generally, this doesn't happen until after she is discharged from the hospital. Once she has signed the consent, the birth mother has several days to change her mind (up to 30 days unless she waives this right). After this period has passed her consent is binding. Her parental rights aren't legally terminated, however, until the adoption is finalized. At the same time, parental rights are established in the adoptive parents.
Birth Fathers
California law permits birth fathers to sign paperwork before or after the baby is born. There are several options for terminating birth father rights. The rights of all possible fathers must be terminated. California has two types of fathers, presumed and alleged. A presumed father is generally someone who is married to the birth mother or whose name appears on the child's birth certificate. He might also be someone who holds himself out as the child's father. If a presumed father refuses to sign any paperwork at any time, his rights must be terminated by court action. However, if an alleged father (essentially anyone who is not a presumed father) refuses to sign paperwork, his rights can be terminated based on notice. This notice requirement puts the responsibility on the alleged father to file a court action to establish parental rights. If he fails to do so, his rights can be terminated without further notice to him.
Respecting Birth Fathers
Many birth fathers are ready to sign paperwork if they are treated with compassion and respect. Some just need to be heard and given the opportunity to be part of the process. Many birth fathers are actively involved in an adoption plan, but not always. Some feel trapped and powerless when faced with the news of an unplanned pregnancy. They get angry; they deny paternity; they avoid service. They tell you the birth mother lied and said she had an abortion. They come out of the woodwork. In order to be ready for these situations, it is critical to get as much information about potential birth fathers as possible. This information is generally all self-reported by the birth mother. The questions you ask the birth mother about the baby's father might not be nearly as important as when and how you ask.
Interstate Adoption
Adoption laws vary from state to state. If the birth mother lives out of state, you must comply with that state's adoption laws and with the Interstate Compact on the Placement of Children (ICPC). The laws range widely from state to state on a variety of issues. Adoptive parents can't leave that state until they've cleared ICPC. Understanding and completing the reams of paperwork required by each state is critical to getting adoptive parents home quickly. Long delays are usually a result of submitting incomplete documents.
Balancing Everyone's Interests
Adoption attorneys should strive to remember, as we work hard to navigate the legalities involved in completing an adoption, that there is a child involved whose life trajectory will change forever, and that we are working with individuals who have put their futures in our hands. The best adoption attorney will work hard to act in the best interests of everyone involved because that is what makes a successful adoption.