Becoming a surrogate mother can be a wonderful experience, once you know it's the right choice for you.
Becoming a surrogate mother is an act of kindness and generosity. It's a beautiful way to give the most precious gift, the gift of parenthood to others.
Women who become surrogates often cite a desire to change lives, to help create a life and to be part of something bigger than themselves. But before you ask "Where do I sign?" it's important that you are aware of all the responsibilities, concerns and legalities of being a surrogate, so that you know you're truly ready.
Compensation
There are emotional, physical and legal elements that need to be balanced against the compensation you receive. There are easier ways to earn money, if that's your goal.
That said, in California, where our firm is based, laws allow surrogate mothers reimbursement for a variety of expenses. For some women, this facilitates staying at home with their own children, for others it simply provides an added measure of financial security.
Legality
A surrogacy contract is important. It can assign financial responsibility to intended parents, related to living expenses, health care, alternative and mental health care, transportation, and unforeseen issues that might arise, such as problems with the pregnancy or the fetus.
Outside of that, there are basic guidelines on who should become a surrogate mother. Although not always set in stone, most agencies have some basic requirements.
Prior Pregnancies
Having given birth in the past is a very important prerequisite to becoming a surrogate, because it proves that you can maintain a healthy pregnancy. It is important for your own well being that you enter into a contract that will not jeopardize your health. In addition, surrogacy is very expensive for the intended parents, who often have a history of infertility and loss that they do not want to repeat.
Also, carrying a child for 9 months can be an emotional endeavor, even if the child is not genetically related to you. It will be much easier and more gratifying if you have children of your own to go home to.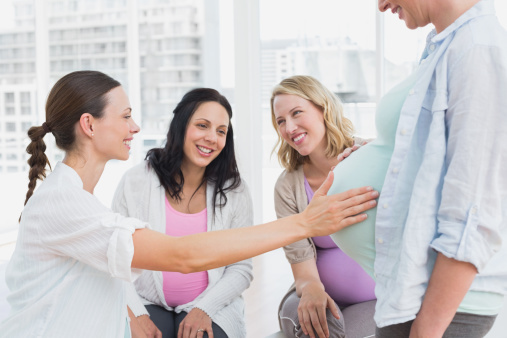 Surrogate mothers should make sure all their physical, emotional and legal bases are covered.
Age and Health Status
A surrogate should usually be between the ages of 21 and 40, for legal and health reasons. A surrogate over the age of 37 should have given birth in recent years and should have medical clearance. It's actually a good idea for women of any age to get the OK from their doctors before signing up.
You should disclose any health conditions, past health issues, surgeries, concerns, abortion history, smoking, alcohol or drug use, prescription or elicit. Some intended parents are comfortable with such risk factors while others are not. It's also important for the intended parents' fertility doctor to know this information to better protect your health and to identify any risks to you that you should be aware of.
Legal Background
Women signing up for surrogacy should have a relatively clean legal slate. A criminal and driving background check can help reassure all involved that you are responsible, law abiding and that you conduct your life in a safe manner.
Much older offenses, small infractions or other factors deemed inconsequential may not interfere with your opportunity to become a surrogate and all information is confidential, so don't be afraid to apply because of something on your record. Each case is assessed individually.
Health Care Coverage
The attorney will also thoroughly analyze your insurance policies, to make sure you are covered through pregnancy and delivery, or, alternatively, health care coverage can be obtained through an agreement with the prospective parents. Insurance that covers a surrogate pregnant specifically may also available.
Once you know that all your ducks are in a row, and that you're a good candidate for surrogacy, you will be better able to decide if you're ready to move forward. Changing a life can be incredibly rewarding. Our staff includes a birth mother, an adoptive mother, and — you guessed it — a surrogate mother. We've been there, and we're here to support you. Give us a call today, there's never any obligation.