Becoming a surrogate can be a rewarding and life changing experience. Perhaps you want to help an infertile friend or family member, or maybe you want to help a couple you've never met experience the joy of parenthood. Apart from your reasons for wanting to become a surrogate, your first step is learning whether you qualify to accept this new role.
To get started, review these top seven qualifications you need to become a surrogate. Qualifications often vary, so use these only as general guidelines.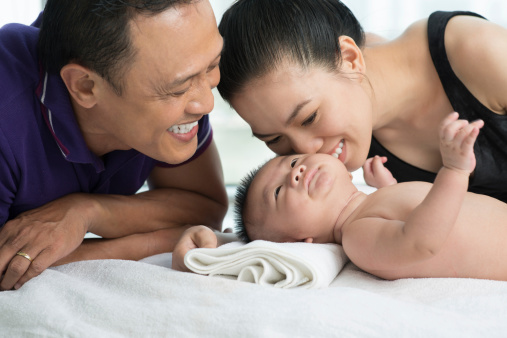 Want to help another family experience the joys of parenthood? Learn how you can qualify to become a surrogate.
Good Health
You must be at a healthy weight, which will be determined by your age, height, and other factors. Being significantly overweight can cause complications during pregnancy and childbirth and could put your health at risk. Along with having a healthy weight, you will need to be in good overall health, with no significant medical complications or concerns.
No History with Drugs or Alcohol
A health record free of drug abuse or alcoholism is important when applying to become a surrogate. Intended parents will often be wary of selecting a surrogate with a history of drug or alcohol abuse. Having a clean record helps show that you'll lead a healthy pregnancy.
Clean Mental Health Record
You must have a clean mental health history when applying to become a surrogate. This experience comes with many emotions and you must be in the proper mental state to handle them. You may also be required to undergo regular counseling during and after the surrogate pregnancy.
Be of a Certain Age
Surrogates are typically required to be older than 21 but younger than 35. However, this guideline can vary in each situation and may be considered alongside your age and other factors. Age restrictions are often placed on surrogates because pregnancy at an older age can cause medical complications.
Have Your Own Children
Surrogates should typically be finished having their own children and, in many cases, surrogates already have children and are currently raising them. This shows that you have already experienced at least one complication-free pregnancy and childbirth.
Find Insurance
You don't need medical insurance when you apply at Family Formation to become a surrogate and a lack of medical insurance won't disqualify your application from approval. However, after the application process is complete and you're ready to move forward, you will then need to find medical insurance. We have helped many other surrogates find medical insurance that covers maternity and childbirth and that doesn't include an exclusion clause for surrogacy, and we will be happy to help you as well.
Have a Flexible Schedule
When applying to become a surrogate, you must show that your schedule is flexible. Steps in the surrogacy process such as insemination or embryo transfer take time and will typically require you to miss work. Also, you must be able to get to and from doctor and prenatal appointments.

Making sure you meet the mental and physical requirements for surrogacy is important for your health and the health of the future child.
Learning whether you meet the emotional, physical and other qualifications to become a surrogate can be time consuming, but the process can be worthwhile. Surrogacy can be a reality for you and Family Formation will help you through each step of the journey. Contact us now to learn how you can help another family experience the joy of parenthood.
Call us if you have any questions, concerns or just want to speak with someone. We're ready to help: (925) 945-1880 or (800) 877-1880. Or if you are ready to get started click here to apply now.